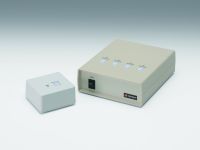 1 axis / 4 axis Shutter Controllers
Controller for driving the SSH-RA series electromagnetic shutters.
You must be logged in to ask questions
◦Shutters can be manually opened and closed using the shutter buttons on the controller body.
◦Shutters can also be opened and closed using a TTL signal from an external controller.
◦4-axis shutter controller (SSH-C4RA) can independently control up to four shutters.