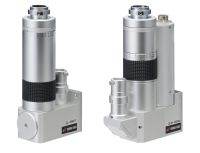 The light, compact body is suitable for assembly in a small space.
A single unit can cover everything from confirmation of the whole image to enlarged observation, with a zoom ratio 12× for optical performance.
Coaxial epi-illumination, which is regularly mounted on the product,enables the observation of bright fields.
Dark fields can be observed by using optional products, ring light guides and partial emission cassettes.
The lineup also includes motorized type suitable for embedding in equipment or for automatic measurements.

Customize product
Filters
Enabled filters :
Remove all filters
Name
Delivery
Price
Add to cart

i

Lens tube with zoom (Motorized)
SZLM

6-12 weeks

$5,442.00

| | |
| --- | --- |
| Zoom Ratio | 12X |
| Zoom Adjustment | Motorized(5-Phase Stepper Motor) |
| Illumination | Coaxial Epi-Illumination |
| Corrected Wavelength Range | 400-700nm |
| Image Size | 8-mm Dia. (for 1/2-inch Format Camera) |
| Camera Interface | C-Mount(1.0-in.-32TPI) |
| Objective Lens Mounting Threads | M26x0.706 |
| Optical Design | Infinity Corrected |
| Compatible Motor Controller Part Number | GIP-101B |

i

Lens tube with zoom (Manual)
SZL

6-12 weeks

$4,623.00

| | |
| --- | --- |
| Zoom Ratio | 12X |
| Zoom Adjustment | Manual |
| Illumination | Coaxial Epi-Illumination |
| Corrected Wavelength Range | 400-700nm |
| Image Size | 8-mm Dia. (for 1/2-inch Format Camera) |
| Camera Interface | C-Mount(1.0-in.-32TPI) |
| Objective Lens Mounting Threads | M26x0.706 |
| Optical Design | Infinity Corrected |
You must be logged in to ask questions