Application System
Bio-photonics
BIOS-Light for inverted microscopes (BIOS-LT-S)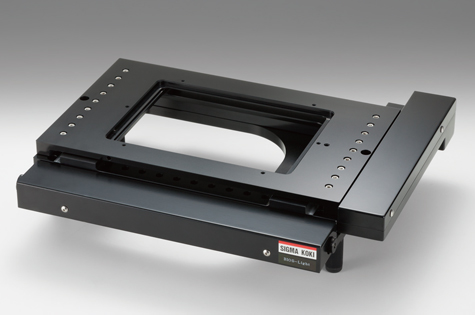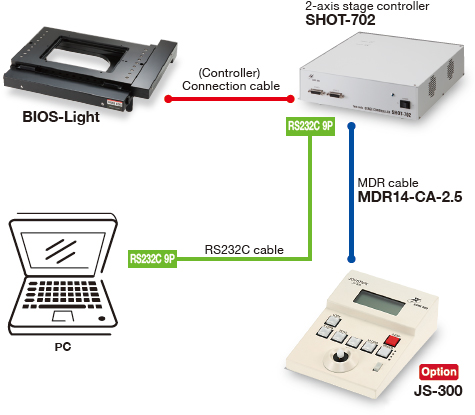 We provide XY stages for microscopes at low prices.
Comes equipped with sample software for controlling PCs.
joystick (option) can be connected to it.
Can also be used as built-in center aperture type stage.
Guide
Pulse control in microstep system
Content of basic set: XY automatic stage, 2-axis stage controller, connection cable
An optional joystick controller has a 4-stage speed switching function
Attention
Please inform us of the maker and part number(model) of your existing microscope before purchase.
Some models of microscopes may not be supported. Please contact the sales department.
Specifications
Travel Distance [mm]
X axis: 110 Y axis: 75
Resolution [µm]
0.1
Positional Repeatability [µm]
±1
Maximum Load Capacity [N]
29.4 (3.0kgf)
MAX Speed [mm/sec]
5
Interface
RS232C
Applicable Microscope
Olympus: BX series
Nikoc: 80i, 50i, E600
Carl Zeiss: Axioplan2
Various Options
| Part Number | Product Name |
| --- | --- |
| BIOS-SH-A | Micro plate holder |
| BIOS-SH-APS | Micro plate holder |
| BIOS-SH-B | Universal sample holder |
| JS-300 | Joystick controller |
| MDR14-CA-2.5 | Joystick connection cable |
| RS232C/STR-3 | RS232C cable |
Sample Holder

サンプルソフト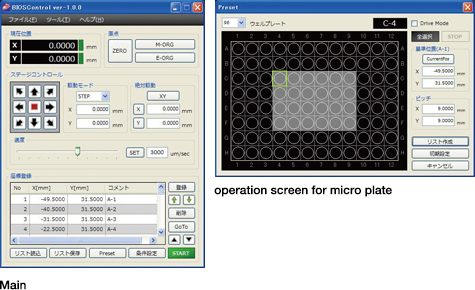 BIOS-Light (for inverted microscopes) Basic set
| Part Number | Product Name |
| --- | --- |
| BIOS-L101T-S | Stage + SHOT-702 + Connection cable (basic set) |
Microscope option set: Olympus IX series
| Part Number | Product Name |
| --- | --- |
| BIOS-L101T-S/AO | Basic set + Adapter |
| BIOS-L101T-S/AO/J | Basic set + Adapter + Joystick |
Microscope option set: Nikon Ti, TE2000 series
| Part Number | Product Name |
| --- | --- |
| BIOS-L101T-S/AN | Basic set + Adapter |
| BIOS-L101T-S/AN/J | Basic set + Adapter + Joystick |