Application System
Guide
APAS (Automatic Polarization Analysis System) Guide
What's a polarization analysis system?
By measuring and analyzing the polarization state, it is possible to analyze the various items such as the internal state and the surface shape of the material, and the optical properties,etc.
Automatic polarization analysis system of Sigma Koki provides the software and an optical system that are combined with a standard light source, optics, holder and detector. And it is available for dedicated measuring device as well as simple evaluation system. Furthermore, we can propose for a wide variety of measurement and evaluation applications.
Polarization measurement software
Simple polarization analysis software "SimpleAPAS"
For corresponding to the extinction ratio and phase difference measurements at specific wavelength such as a laser light, it is software that can also add-on to an existing optical system of the customer.
Main function
Automatic adjustment for wave plate, the axis direction of analyzer.
Measurement of polarization and phase difference by rotation compensator system
The phase difference measurement by the Senarmont method
Log measurement of each operation
Integrated polarization analysis software "SKPola"
It is the software that supports up to spectral data characteristics in combination with the optical system dedicated to using the UV, Visible and Nearinfrared light source.
Since it is available to correspond to both the spectroscopy and single wavelength measurement and also multi-order phase difference measurement, it covers all the primary evaluation items of polarization optics.
Automatic adjustment of the polarization optical axis direction
Polarization measurement by rotating analyzer method
Spectral transmittance ratio measurement
Phase difference measurement by Senarmont method
Circularly polarized light contrast measurement
Log measurement
Polarization measurement by rotating compensator method
Polarizer transmission polarization ratio measurement

Example of polarization measurement application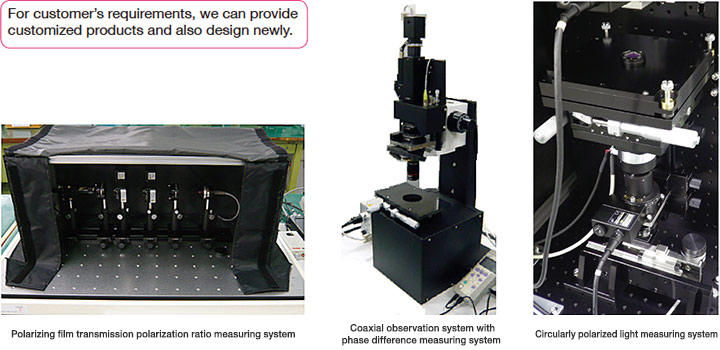 <>div>