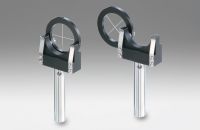 Fixtures used for optical axis adjustment of non-visible lasers. Insert IR sensor cards or van paper in the path using the spring clips, rotate cross wires into the laser light to confirm the positional relationship of the shadow of beam and cross wire.

Customize product
Filters
Enabled filters :
Remove all filters
You must be logged in to ask questions
◦The cross wires are retractable and are placed in the center of posts to enable good repeatability.
◦If two target holders are placed leaving an interval, they can be used as a laser beam tilt adjustment jig.