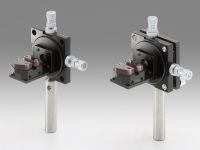 Precision Mini-Fiber Optics Holders
Holders for mounting an optical bare fiber and for fine adjustment.
You must be logged in to ask questions
◦Come equipped with a small differential micrometer (graduated) for adjusting the criss-cross motion to provide 0.5mm coarse motion/rotation and 0.05mm fine motion/rotation, making them convenient for microscopic positioning.
◦The MFH-FOP-2 offers tilt adjustment (±2°) in two directions, in addition to fine adjustment in the criss-cross directions within the plane perpendicular to the optical axis.
◦While the applicable jacket diameter of the standard holders is 900 μm, those accommodating jackets 250 and 500 μm in diameter are also available.