Optical Fiber Collimator Spanner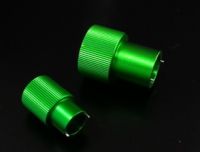 Special tool required to adjust the position of collimator lens mount for Optical Fiber Collimator Housing (FC). Output beam can be observed during the adjustment.

Customize product
Filters
Enabled filters :
Remove all filters
You must be logged in to ask questions
◦ 2 types available: for FC-12.7(PC/APC) and FC-25.4(PC/APC).
◦ Easy to rotate with large grip.