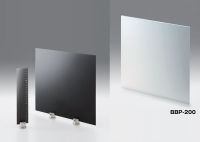 Light shields can be used to block stray light in laser experiments and can also be used as viewing screens for interferometers or other setups requiring a projection screen.

Customize product
Filters
Enabled filters :
Remove all filters
You must be logged in to ask questions
◦BBP-2505B includes a measurement scale to allow easy adjustment of the height of the optical axis of laser beam.
◦BBP-3130B can block light in a wide area.
◦BBP-2505B and BBP-3130B include magnet bases.
◦BBP-200 has a white matte finish for use as a viewing screen.