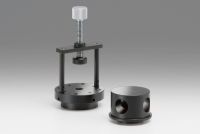 A prism adapter set that kinematic mirror holders to be used as prism holders while maintaining the operability of the kinematic mirror holder and the use of NOMI LOCKTM.

Customize product
Filters
Enabled filters :
Remove all filters
You must be logged in to ask questions
◦The height from the installation surface of cube optic to the mounting surface of the post is 42.5mm. The height to the end of the adjustment screw is a maximum of 57.5mm. Adding the space for operation to the height, the optical axis height needs to be 100mm or more.
◦Adjustment of the cube in the yaw direction is accommodated by rotating the post in the post holder.