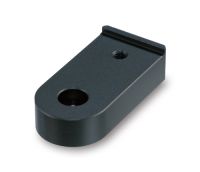 These plates correct the distance offset between the center of the mirror and the mounting hole.

Customize product
Filters
Enabled filters :
Remove all filters
You must be logged in to ask questions
◦When post adapter plates are used, the optical axis will move 10mm upward. (12.3mm only for MHG-12 and 7BPRO.)
◦Post adapter plates can be fixed not only on posts but also on stages or baseplates using M4 screws.
◦The adapters are designed for use with a mirror of 5mm thickness. Offset remains if a mirror of thickness other than 5mm is used.