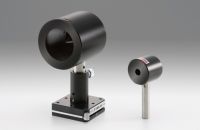 Beam Dumps safely terminate the beam of high-power lasers and high energy pulse lasers. The laser light is scattered and absorbed in the beam dump and converted into heat.

Customize product
Filters
Enabled filters :
Remove all filters
You must be logged in to ask questions
◦Because the incident laser beam is scattered onto a conical surface, the light scatter back to the incident side can be greatly attenuated.
◦BD-40 for small beam diameter (φ5mm or less) and BD-80 for large diameter beams (φ30mm or less) are available.