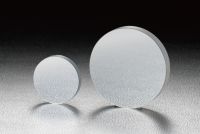 UV Enhanced Aluminum Flat Mirrors (Circle)
This is a vapor-deposited aluminum flat mirror with the substrate polished with high accuracy, designed for high reflectivity at any incident angle.
You must be logged in to ask questions
◦With four types to choose from; (TFAN/TFAQN) which is coated with aluminum only, (TFA/TFAQ) which is coated with a protective coating against accidental hard scratches, (TFAE) which is coated aluminum and a protective coating to increase the reflectance of ultraviolet and lastly, (OPBA/OPSQA) which provides Aluminum with protective coat on the optical parallel substrate.
◦For ultraviolet, visible and near-infrared light applications.
◦For low thermal expansion mirrors, we have (TFAQ/TFAQN) which is made of Synthetic fused silica that provides high rigidity and high precision surface quality.