Piezo Actuator for Objective Lens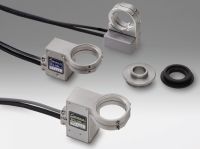 Objective lens actuators for upright inverted microscope employing piezo element actuator and digital sensor for feedback.

Customize product
Filters
Enabled filters :
Remove all filters
You must be logged in to ask questions
◦Compact package for smooth integration into existing microscopes.
◦Designed for high-speed, high-resolution positioning.
◦Open loop travel is 100μm, closed loop travel is 80μm. Compared to the open-loop control, the maximum travel of closedloop control will be less about 10%.
◦Each model can be installed on a variety of upright or inverted microscopes. Thread inserts make it easy to integrate with different manufacturer's standard threads.
◦As in the case of the Sigma fine stage series, these actuators can be driven with the controller (FINE-01γ/503(CL)). Recommended controllers are the FINE series controllers.