1nm-Resolution Stage System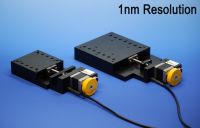 FS-UPX is feedback stage with 1nm resolution positioning.
FS-UPX series operates faster than high torque type FS-SPX series.
In-house optical linear encoder are built-in at the center of stage to detect position.
Positioning to target position, positioning repeatability and holding the position with high resolution is achieved by feedback control using position information of encoder.
There are two types of the stage which travel of 20mm and 50mm.

Customize product
Name
Stage Size
Delivery
Price
Add to cart

i

50mm Travel X-axis Motor Stage, 1nm resolution, 120X120mm, M4 Thd
FS-1050UPX
120×120mm

6-12 weeks

$8,486.00

| | |
| --- | --- |
| Travel | 50mm |
| Stage Size | 120×120mm |
| Weight | 98N(10kgf) |
| Minimum Resolution *1 | 1nm |
| Positional Repeatability *1 | ±2nm |
| Running Parallelism | 10μm |
| Maximum Travel Speed | 5mm/sec |
| *1 Minimum resolution and position repeatability accuracy for built-in scale read. | |
| Primary Material | Aluminum |
| Finish | Black anodized |
| Motor Type | □28mm 5 phase stepping motor |
| Limit Sensor | Equipped |
| Origin Sensor | None |
| Proximity Origin Sensor | None |
| Signal Cycle | 2μm |
| Scale Cable* | 2m *Scale cable comes directly out of the stage. Please prepare "extension cable for scale" separately if 2m or longer cable are needed. |
| Compatible Controller | FC-911 |
| Compatible Cable | PM-CA-* |

i

20mm Travel X-axis Motor Stage, 1nm resolution, 60X60mm, M4 Thd
FS-1020UPX
60×60mm

6-12 weeks

$7,426.00

| | |
| --- | --- |
| Travel | 20mm |
| Stage Size | 60×60mm |
| Weight | 49N(5kgf) |
| Minimum Resolution *1 | 1nm |
| Positional Repeatability *1 | ±2nm |
| Running Parallelism | 10μm |
| Maximum Travel Speed | 5mm/sec |
| *1 Minimum resolution and position repeatability accuracy for built-in scale read. | |
| Primary Material | Aluminum |
| Finish | Black anodized |
| Motor Type | □28mm 5 phase stepping motor |
| Limit Sensor | Equipped |
| Origin Sensor | None |
| Proximity Origin Sensor | None |
| Signal Cycle | 2μm |
| Scale Cable* | 2m *Scale cable comes directly out of the stage. Please prepare "extension cable for scale" separately if 2m or longer cable are needed. |
| Compatible Controller | FC-911 |
| Compatible Cable | PM-CA-* |
You must be logged in to ask questions