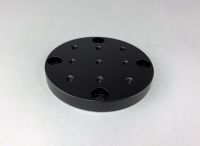 Cage Rotation Stage Adapter Plate
Plate converting P.C.D.50mm upper M4 screws to 15mm pitch M4 screws or 8-32UNC screws.
Attention ▶If the rod is tightened too tightly or if the tightening force is greatly different depending on the location, the rod may not fit in other holders.
▶Initially fix the rod lightly, after building the optical system, please tighten so that the force that fixes the rod is even in each holder.
▶When configuring a large optical system or a long optical system, it may become distorted or become unstable due to vibration.
You must be logged in to ask questions