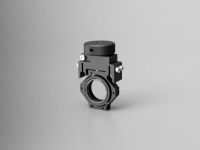 A gimballed mirror holder that can be placed anywhere on the rod. It can reflect the light path at an arbitrary angle.
Attention ▶ If the rod is tightened too tightly or if the tightening force is greatly different depending on the location, the rod may not fit in other holders.
▶ Initially fix the rod lightly, after building the optical system, please tighten so that the force that fixes the rod is even in each holder.
▶ When configuring a large optical system or a long optical system, it may become distorted or become unstable due to vibration.
You must be logged in to ask questions
◦ Mirror holders are supported by two rods (cages).
◦ The cage system has no distinction of up, down, left and right. Therefore, it is possible to place the holder in various orientations, which is convenient for constructing a three-dimensional optical system.