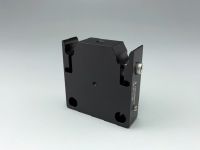 Cage Blank Plate is used when the standard product listed on our web site cannot be fit with the customer's system.
It can be processed any size or shape of the holes.
Rod fixing screws are supplied for the 4 through holes which dia. 6mm of rod for Cage(C30-RO-**: dia. 6mm).
Attention ▶If the rod is tightened too tightly or if the tightening force is greatly different depending on the location, the rod may not fit in other holders.
▶Initially fix the rod lightly, after building the optical system, please tighten so that the force that fixes the rod is even in each holder.
▶When configuring a large optical system or a long optical system, it may become distorted or become unstable due to vibration.
You must be logged in to ask questions
◦ The cage system has no distinction of up, down, left and right. Therefore, it is possible to place the holder in various orientations, which is convenient for constructing a three-dimensional optical system.