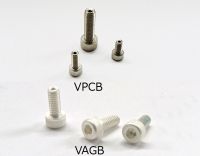 SDC<sup>®</sup>Clean bolt (Gas vent hole drilling)
This is a hexagon socket head cap screw with a vent hole.
You must be logged in to ask questions
◦ Plasma surface hardening process is provided onto surface of the screws to prevent contact corrosion between dissimilar metals.
◦ There is a vent hole on the center of the screw.