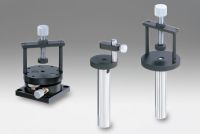 Designed to hole cubed optics or right angle prisms. All four polished surfaces of a cubed prism can be used with these mounts.
You must be logged in to ask questions
◦The KKD series has tip, tilt and yaw rotation for fine adjustment of reflected beams.
◦The clamp screw will not rotate the prism when clamping.