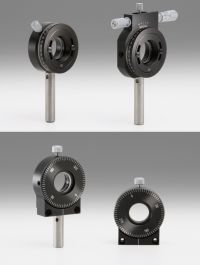 Used to adjust the direction of polarization of waveplates and polarizer optics. The mount has 360 degrees of smooth rotation.
You must be logged in to ask questions
◦The SPH series uses a micrometer for fine adjustment.
◦The scale plate on the PH and SPH series can be positioned to provide a convenient reference to the polarizer or crystal axis.
◦The SPH can be post mounted with the micrometer at the top or at the side for convenient operation in a variety of environments.
◦The SPH includes a locking mechanism to prevent accidental adjustments.
◦Optics are held in place with retaining rings and resin rings.
◦The MPH series is designed for use in small systems and narrow spaces.