Precision Optical Pinholes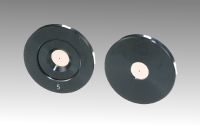 Mounted metal foil with a pinhole or slit 400μm or less. Used in spatial filters, laser diffraction experiments and microscopic magnification correction.

Customize product
Filters
Enabled filters :
Remove all filters
You must be logged in to ask questions
◦A precision etching process creates holes with high circularity and slits with high parallelism.
◦For YAG lasers (1064nm) and CO2 lasers (10.6μm), pinholes made of high copper coated with gold should be used.
◦Pinholes and slits are pre-mounted in aluminum frames for ease of handling and mounting.