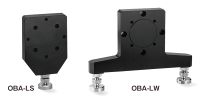 Can be attached to a large optical rail (OBA-L/LH) to provide ±8mm height-adjustment capability.

Customize product
Filters
Enabled filters :
Remove all filters
You must be logged in to ask questions
◦OBL-LS is a one leg Rail Feet and the OBL-LW is a two legs Rail Feet, they have to be used as a set. Three legs Rail Feet offer easier flatness adjustment.
◦Please use the CAA-25LS if you use it with OBA-SH.