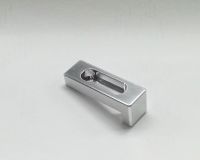 These are low outgassing base clamps for fixing vacuum optical baseplates and vacuum base plate onto a breadboard in the high vacuum chamber.

Customize product
Filters
Enabled filters :
Remove all filters
You must be logged in to ask questions
◦ The slotted hole and vacuum M6 screws make it possible to fix a maximum 10mm thickness plate in the optimal position.
◦ If screws are tightened, plates are pressed firmly to the tables by leverage and the plates will be fixed.