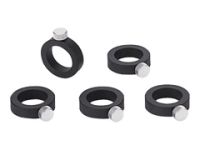 Accesory parts for post holders (RS).
You must be logged in to ask questions
◦A post is secured with the clamp screw on the side of post holder and that of the post collars.
◦By attaching this post collars to the post of a holder, the same height can be maintained when removing the holder from the post holder and setting it again.