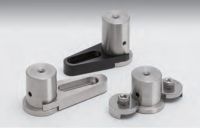 Clamps for Pedestal/Post-Holders
Clamps for Pedestal Bases (PST) and Post-Holders (BRS/RS) can secure Pedestals freely about a tapped hole on a vibration isolator or laboratory bench.
The PSTM is used to add a pedestal base to standard Post Holders with M16 Threads. This allows the Post Holders to be freely positioned like a Pedestal.
You must be logged in to ask questions
◦The PSC-10 product line must be used in pairs, for clamping a Pedestal at two positions. The PSCA/PSCS is used to clamp a pedestal at a single position.
◦The long slot on the PSCA /PSCS clamps allows for coarse adjustment in the horizontal direction.
◦The clamp is secured with a M6 or 1/4-20UNC screw.