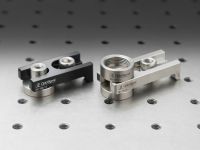 The base allows for posts to be positioned close together with the magnet of the clamps.
You must be logged in to ask questions
◦Rod stand base can be secured onto a steel lab benchwith the magnet, or with the clamp.
◦The clamps locks down the rod stand at any angle about a tapped hole.