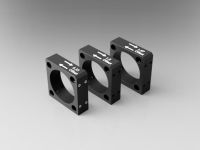 When the beam passes a plate type beamsplitter, the beam is shifted due to its thickness.
C30-OFS can compensate the beam shift by a plate type beamsplitter to the center of the optics.

Customize product
Filters
Enabled filters :
Remove all filters
Attention ▶The shift amount of the beamsplitter depends on the angle of incidence, wavelength and material.
If the beamsplitter is used at an angle of incidence of 45 deg.., in visible light (e-line), and made of a material other than BK7, it may deviate from the center of the cage (the center of the optics). For the calculation of the shift amount, please refer to the "Optical Formula" in the Optical Data section of the Optical Element Guidance.
Name
Delivery
Price
Add to cart

i

Cage Fixed Shift Plate
C30-OFS-0.33

2 weeks

$39.00

| | |
| --- | --- |
| Primary material | Aluminum |
| Guide Rod Diameter (Spaceing between rod) | φ6mm (30x30mm) |
| Optics Thickness | 1mm |
| Off set | About 0.33mm |
| Thougth Hole Diameter | φ32mm |
| Installation | Slide from the end of rods |

i

Cage Fixed Shift Plate
C30-OFS-1.0

2 weeks

$39.00

| | |
| --- | --- |
| Primary material | Aluminum |
| Guide Rod Diameter (Spaceing between rod) | φ6mm (30x30mm) |
| Optics Thickness | 3mm |
| Off set | About 1.0mm |
| Thougth Hole Diameter | φ32mm |
| Installation | Slide from the end of rods |

i

Cage Fixed Shift Plate
C30-OFS-1.67

2 weeks

$39.00

| | |
| --- | --- |
| Primary material | Aluminum |
| Guide Rod Diameter (Spaceing between rod) | φ6mm (30x30mm) |
| Optics Thickness | 5mm |
| Off set | About 1.67mm |
| Thougth Hole Diameter | φ32mm |
| Installation | Slide from the end of rods |
You must be logged in to ask questions
◦Can be selected from three types according to the amount of shift by the thickness of the beamsplitter of 1mm, 3mm or 5mm.
◦Use with Cage Rod (C30-RO-6-10, 4pcs)