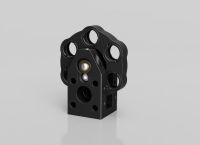 Specially designed holder for Cage system, in which multiple filters are assembled to a revolver and inserted into the light path by rotating the revolver.
The Revolver can be used to switch the amount of transmitted light by installing ND filters with different OD, or to switch the wavelength of transmitted light by installing color filters, etc.
Attention ▶ If the rod is tightened too tightly or if the tightening force is greatly different depending on the location, the rod may not fit in other holders.
▶ Initially fix the rod lightly, after building the optical system, please tighten so that the force that fixes the rod is even in each holder.
▶ When configuring a large optical system or a long optical system, it may become distorted or become unstable due to vibration.
You must be logged in to ask questions