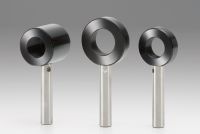 Used to hold objective lenses in optical experiments.

Customize product
Filters
Enabled filters :
Remove all filters
You must be logged in to ask questions
◦Female threads fit a wide range of OptoSigma threads. See the compatibility table for appropriate combinations.
◦There are two styles of objective holder mounts. Both have M20.32 threads. One is the standard type (LHO-20.32) that allows placement of targets in close proximity to lenses, and the other is the hooded type (LHO-20.32A) that blocks stray light.
◦ The images from the objectives will be stable due to the rigidity of the mount.