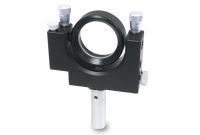 Vertical Control Gimbal Mirror Holders
Gimballed mirror mounts accessible from top. Mirror angle is arbitrarily adjustable with its point of reflection unchanged. Useful when mirror is located proximate of other optical devices or difficult to access.
You must be logged in to ask questions
◦Mirror is hold with retaining ring screw from rear side. A point of reflection at front side of mirror is unchanged in regard to orientation and thickness of mirror.
◦Gimball mechanism with coarse/fine switching knob enables fine adjustment of mirror at arbitrary angle.