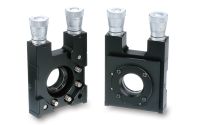 Topmike Vertical Control Mirror Holders
Top adjustment of these mirror mounts allow for devices to be placed in close proximity with each other. The mount can be mounted so that the micrometers are facing upwards or horizontally with the correct baseplate.
You must be logged in to ask questions
◦The optical axis of the mount does not change with vertical or horizontal mounting.
◦Each baseplate will work with the mount vertically or horizontally.