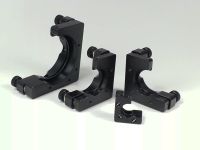 High-Resolution C-Shaped Mounts
Precision 0.1mm thread pitch fine adjustment screw introduces high resolutions. It is thinner than MHG mounts.
You must be logged in to ask questions
◦ The C-shaped mounting frame facilitate close-proximity positioning of the optical passes.◦ The holders are thin which offer more adjustment space compared to the MHG series.
◦ Mirrors are held are three points along the side to distribute the stress on the mirror evenly.
◦ The use of retaining rings does not constrain the clear aperture. A large clear aperture can be obtained with reflected or transmitted light.