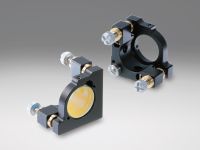 Kinematic Mirror Holders
SKU : MHG - MHG-MP - MHG-HS
In stock
SKU
MHG - MHG-MP - MHG-HS
With their simple structure, excellent rigidity and stability, kinematic mirror holders are used in interferometers and laser resonators.
You must be logged in to ask questions
◦Remarkably stable and compact. Suitable for use close to other devices. Offers a sufficiently large, clear aperture for 45° incident beam.
◦The mirror is held and secured at three points, minimizing changes in profile.
◦Two types of holders, the Industrial Type (MHG-MP Series) providing significant cost reduction and the High-Stability Type (MHG-HS Series) allowing for three-axis adjustment, are available for 25mm, 25.4mm, and 30mm diameter optics. Both offer drastically improved ease of use and stability compared to conventional products.