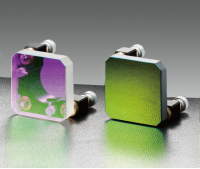 Frameless mounting is designed to minimize product footprint and maximize the front surface area of the mirror used. Our high-reflectivity mirrors are produced using a ceramic material with thermal expansion ratio equivalent to Zerodur® to provide maximum thermal stability.
You must be logged in to ask questions
◦Laser damage threshold of the mirror is equivalent to our high power dielectric laser mirrors (TFMHP).
◦λ/10 surface accuracy guarantee after coating.
◦The Beamsplitter coating is equivalent to our ultra broadband dielectric half mirror (PSMH).
◦Fused Silica is used for our beamsplitters to minimize transmitted wavefront error(s).