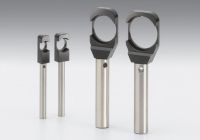 These fixed lens holders are designed to be narrower than the diameter of lenses they hold.
You must be logged in to ask questions
◦Intended for compact optical layouts where the lenses need to be placed close to each other in parallel.
◦Place the plano side of a lens against the holder.
◦The simple setscrew mounting method makes replacement of lenses easy.
◦Can secure plano concave lenses with edge thickness of 1mm.