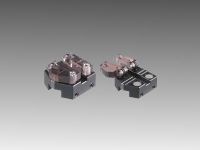 Holders used for holding optical fiber strands of various jacket diameters (coating diameters). By replacing the mounting adapters (MFH-ADP), these holders can mount on various stages in addition to two-axis pinholes/objective holders.

Customize product
Filters
Enabled filters :
Remove all filters
You must be logged in to ask questions
◦Using the V groove and the resin clamps, these holders hold the tip of an optical fiber where the coating is removed for approximately 15mm. The V groove and the resin clamps also fix the 900μm jacket right next to the portion to immobilize the optical fiber.
◦The resin clamps have built-in magnetizable set bolts, and gently fasten an optical fiber by the magnetic force of the magnets of these fiber holders.
◦There is a keyway on the bottom of these holders. The keyway can be installed on the keys of various mounting adapters (MFH-ADP) to slide back and forth. The holders are securely fastened on the mounting adapters with set bolts.