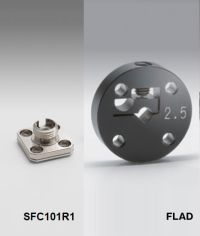 Standard FC receptacle and ferrule adapter to mount to FC Type Fiber Optics Holder.

Customize product
Filters
Enabled filters :
Remove all filters
You must be logged in to ask questions
◦Tightening the set screw located on the top of the adapter clamps the ferrule from the side.
◦When using this adapter for a nonstandard ferrule or for something other than a ferrule, insure that the diameter of the part matches the diameter marked on the FLAD adapter.