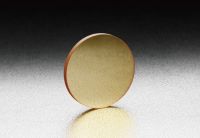 ZnSe Windows for Infrared Laser
Windows made of zinc selenium (ZnSe) is the most commonly used optical material that allows transmission of infrared light. Nonhygroscopic and extremely stable under normal conditions, in contrast to other salt-based infrared materials.
You must be logged in to ask questions
◦Non-coated and AR coated products for CO2 lasers are available.
◦In contrast to other optical materials for infrared light such as Ge (germanium), or Si (silicon), ZnSe windows allow transmission of some visible light, enabling easier adjustment (alignment) of the optical axis of infrared laser systems and enabling use of more convenient and inexpensive He-Ne lasers.


About the handling policy of ZnSe optics
Legally, ZnSe has been considered as a toxic optic substance,the non-coated product (OPZS) must be delivered with a certificate of Acquisition of Poisonous and Harmful Substances.
In addition, ZnSe Optics disposal after use is prohibited in general. However, we only take back products that we supplied.This policy noted is in Japan and other countries may differ in the treatment of ZnSe (Zinc selenide), please contact your local sales office.