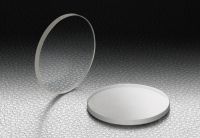 Sapphire Windows for Infrared Laser
These Sapphire windows contain no impurities and provide high transmittance without any absorption covering the visible and infrared regions of the spectrum. Recommended to use these sapphire windows where the most durable surface is required such as cover windows.
You must be logged in to ask questions
◦Sapphire windows have excellent heat and weather resistance and can be used in outdoor applications or as a protective glass for optical systems.
◦High transmittance from visible regions to Infrared regions of the spectrum and are widely used as windows for detector systems.