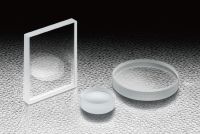 Optical Flats (Square)
SKU : OFB - OFBP - OFSQ - OFPXP - OFSQP-S
In stock
SKU
OFB - OFBP - OFSQ - OFPXP - OFSQP-S
These Optical Flats are precision polished on one side to a high accuracy and surface quality. They are suitable substrates to be coated with an optical thin film, such as a custom-made mirror.
You must be logged in to ask questions
◦ We offer these substrates in a wide variety shapes and sizes, thickness and surface accuracy to allow for selection according to your required specifications.