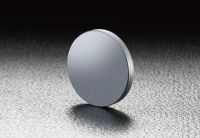 We can provide special optical polishing service for optics or wedge substrate that achieve surface roughness of <0.2nm (Ra). These low scattering substrates are in high demand for high power laser and X-ray applications.
You must be logged in to ask questions
◦Use a wedged substrate for a beamsplitter to prevent effects of back reflection.
◦CaF2 (calcium fluoride) and MgF2(magnesium fluoride) are mainly used in UV and IR for its high transmittance.
◦Our highly technical processing yields low surface roughness (microscopic irregularities) and precision surface accuracy (flatness of whole surface).