Water Free Synthetic Fused Silica Windows for Infrared Laser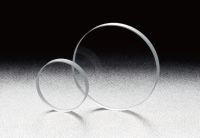 A standard Fused silica window has hydroxyl absorption (OH radical group) at wavelength 1.4μm, 2.2μm, 2.7μm. Anhydrous synthetic quartz is a special material that does not absorb water molecules in the molecular glass; therefore there is no hydroxyl absorption at the IR region.

Customize product
You must be logged in to ask questions
◦The physical characteristics and optical properties of none hydroxyl absorption at IR region is the only difference from conventional synthetic quartz.
◦The material is physically robust and provide higher stability and is recommend for use in vacuum and high pressure environments.