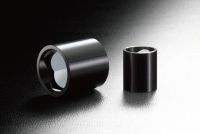 The hollow retro-reflector is similar to the corner cube; it reflects the incident light back to its original source. This is made of a high precision assembly of 3 flat mirrors; insensitive to chromatic dispersion of the refractive index of glass and the absorptive of glass.
You must be logged in to ask questions
◦The hollow is fabricated under high precision process; it can assure the reflection of high accuracy light.
◦Can be used at broad wavelength range from UV to IR.
◦Since there is no glass chromatic dispersion, the position of the back incident beam does not change with wavelength.
◦With a small polarization effects, it is recommended to use in multiple interferometer optical path.