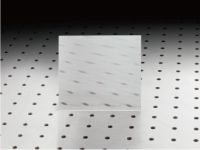 The Prism Sheet is used when changing the incident direction or diffusing a light source that is directional such as an optical device for the LCD TV or the display of the mobile terminal.

Customize product
Filters
Enabled filters :
Remove all filters
You must be logged in to ask questions
◦Since the prism is processed directly to an acrylic plate of 2mm thickness, the performance is stable and not easily deformed.
◦There are two types of pitch, 0.03mm and 0.05mm of the prism line.
◦It can also be used as a Fresnel prism (prism plane).