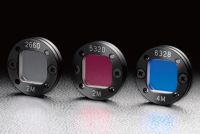 Quartz waveplates are zero-order retardation plates (phase plates) which are assembled from pairs of optically contacted crystalline quartz plates and are mounted on aluminum frames. Unlike multiple-order (higher-order) waveplates that are made from a single quartz plate, the net retardations of zero-order waveplates are only slightly affected by temperature change.
You must be logged in to ask questions
◦These products utilize birefringence of quartz and give phase difference of λ/4 (π/2, 90°) or λ/2 (π, 180°) to the input beams. λ/4 retarders convert linearly polarization to circularly and circularly polarization to linearly. λ/2 retarders convert the direction of polarization in 90 degrees.
◦Usually linearly polarized beams are input to the waveplates in a leaning of 45 degrees against its optic axis.