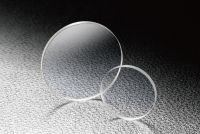 Mica waveplates are zero-order (first-order) retardation plates (phase plates) which are designed at 550nm wavelength and effective from 400 − 700nm. A mica sheet is sandwiched between optical glass discs for protection and ease of use.
You must be logged in to ask questions
◦These products utilize birefringence of mica and give phase difference of λ/4 (π/2, 90°) or λ/2 (π, 180°) to the input beams. λ/4 plates convert linearly polarization to circularly and circularly polarization to linearly. λ/2 plates convert the direction of polarization in 90 degrees.
◦Usually linearly polarized beams are input to the waveplates in a leaning of 45 degrees against its optical axis.