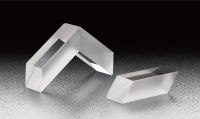 The optical retardation can be given without the wavelength dependence for all visible ranges. It can be used in optical systems that change the polarization direction of the white-light source or spectroscopic measurement using polarization.
You must be logged in to ask questions
◦There are two types of Fresnel rhomb waveplate, a half waveplate can rotate the polarization orientation and a quarter waveplate can convert linear polarization into circular polarization.
◦As the entrance, exit and reflecting surfaces are processed to provide high parallelism and to minimize beam deflection.
◦When the linear polarization orientation of incident light is 45 degrees against the sides of square faces, the specified optical retardation will be obtained. The light will exit as linear polarization with –45 degrees orientation for the half waveplate, and as circular polarization for the quarter waveplate.