Parabolic Lens of Internal Reflection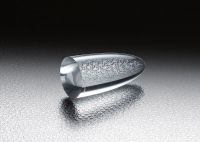 Parabolic lens of internal reflection type is an optical element that, with incident lights from various directions reflected at the streamlined side surface, can collect the lights on the emitting end surface. It is used as a collector of solar cells.

Customize product
Filters
Enabled filters :
Remove all filters
You must be logged in to ask questions
◦With the parallel light of 25° or less as an incident angle it is possible to collect efficiently the light at the emitting end surface even though the incident from any directions occurs.
◦Since it is uses the internal reflection of the glass, the configuration is simplified compared with a lens system.
◦By using the press molding technique of the glass lens, it achieves both high performance and low cost.