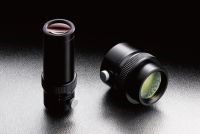 Laser Beam Expanders With diopter correction function
This is an optical system for expanding a small collimated laser beam to a larger one. Fine adjustment of the collimator is available using the diopter correction function. You can use in a high precision optical system like an interferometer or laser processing with lens designed for wave from aberration.
You must be logged in to ask questions
◦The beam expander optical system is air-space with no bonded lenses and can be used for high powered laser applications.
◦With the Galilean type lens configuration, it reduces the number of aberration corrections and shortens the length of the beam expander.
◦By turning the diopter ring on the beam expander, you can have a varied collimated beam with beam divergence on the focused beam. A beam waist or an accurate adjustment of the collimation is required.
◦There is a wide variety with different magnification and wavelengths to choose from.
◦With the different types of BE-V and LBED visible lasers, can be attached to a He-Ne (05-LHP) lasers with an adapter (included).