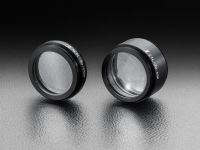 Excimer Laser Focusing Lenses
These lenses are manufactured with a synthetic fused silica material and it has a high transmittance value in the ultra-violet wavelength of 180 − 400nm. They have excellent performance and are ideal for focusing and imaging applications. There is no adhesive or heat absorption material used to produce these lenses, as a result they show high resistance to the ultraviolet light.
You must be logged in to ask questions
◦They are made of 2 or 3 spherical lenses and they offer correction on spherical and comatic aberration.
◦Standard focal lengths for Excimer laser with 248nm, 266nm and 355nm.
◦NA 0.1 or below (ETL model NA 0.25) can be focused to the diffraction limit.